YOUR INTERNATIONAL EDUCATION GATEWAY
THE EDUCATIONAL COLLABORATIVE
FOR INTERNATIONAL SCHOOLS
We have been at the forefront of international education for 53 years thanks to the passionate support of our members: a global network of schools, school groups, universities, individuals, and commercial organisations dedicated to our mission of creating impact through international education. Today our impact is greater than ever. ECIS members enjoy access to our diverse network,  accessing cutting-edge ideas, promoting research and development in education, and advancing classroom and leadership practices. We invite you to join us!
Member school image: TASIS, The American School in Switzerland
Explore our Membership Categories
ECIS organises a wide range of events throughout the year: conferences, workshops, and retreats are long-standing ECIS traditions. Events are one way that we meet the needs of our members and professionals working within the international and independent education sector. From our annual educators' conference to our annual leadership conference, and our outstanding special interest conferences, we provide quality professional learning experiences that serve to advance international education. Discover our events for yourself!
Governance Retreat (Düsseldorf) | 28 September 2018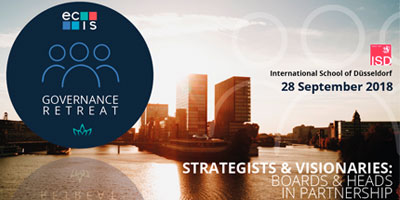 How does the relationship between the board and the head manifest itself within the framework of Strategy and Vision? What are the roles and responsibilities of each, and what does leading practice look like, in terms of this partnership? How do we dream about (and plan for) the future, alongside the normal business of the […]
MORE
2018 ECIS & AISAP Admission and Advancement Conference (Waterloo) | 4-6 October 2018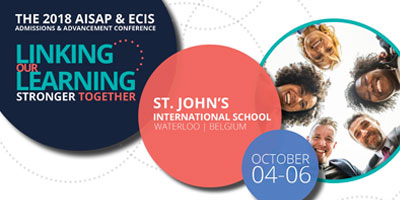 ECIS and AISAP (Association of Independent School Admission Professionals) have teamed up to provide a dynamic professional development and networking conference. This will be a place for professionals in admission, enrolment management, and advancement of independent and private schools to gather to learn new skills, enhance existing skills, and share best practice. We can be […]
MORE
2018 Educators Conference (Luxembourg) | 16-18 November 2018
The theme of this year's conference is The Language and Design of Learning -- and do we have lots of learning in store for you! The first 1.5 days are dedicated to deeper learning formats, what we call POPs (problems of practice), where we work together to solve problems of practice and implement immediately in […]
MORE
IMPACTFUL LEARNING FOR INTERNATIONAL SCHOOL COMMUNITY
We have invested heavily in creating high-quality courses, certificate programmes, and professional development qualifications designed for classroom teachers, current and aspiring school leaders, governors (trustees) and owners. Adapting to multiple modes of learning, our course options now include face-to-face courses, online courses, and blended courses. Whatever your preferred mode of learning, our courses are professionally mapped and are aligned to our professional learning framework, developed in collaboration with the Teacher Development Trust.