Collaboration and outdoor learning in Düsseldorf.
Kate Hookham, International Educational Consultant, Do Learn.
A long-term collaborative project with the International School of Düsseldorf to develop an Outdoor Learning Environment programme (2010-2020).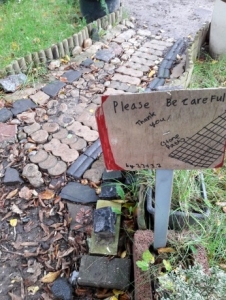 The key to any successful project for a consultant is a committed, collaborative staff team to work with who are willing to take a chance on new approaches, with backing and financial support of management and the wider community (parents and carers). I have been fortunate that ISD has been all of this and more.
The reason I promote outdoor learning is, for me, it can provide the best 'classroom'. For visual learners, artificial lighting versus natural, ever-evolving light conditions wins outright. Auditory learners thrive as noise does not bounce back off surfaces given there are no walls, and natural materials disperse or absorb noise created. Finally, for our kinaesthetic learners, there is more space to move and learn in context.
Equally, children of today will see so much change and evolution in our technologies, cultural integration and indoor/urban design that the outdoor environment may be the only constant in their lives. There will always be a sky above their heads, vegetation, and animals around us (we hope). If we instill respect for nature and a connectedness, these children will be the guardians of the future. Learning outdoors promotes skills we will use our whole lives: emotional resilience, self-regulation, social skills, and higher-order thinking.
About the International School of Dusseldorf.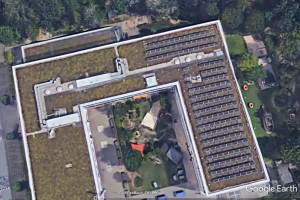 Founded in 1968, it is an International Baccalaureate World School with a current role of 1100 students. The campus sits on 19 acres in Kaiserswerth, Düsseldorf, in which the children and staff have built 6 outdoor learning centres/classrooms over the course of the ten-year project. The photo is an aerial view of 3 of these classrooms.
I first visited the International School of Düsseldorf in January 2010. During this initial visit we discussed how we could use the outdoors to support the Primary Years Programme and IB World School. I suggested we should start in Kindergarten (where outdoor learning already occurred) and build up from there. This would mean the children would carry their outdoor learning skills with them up through the school (self-awareness, regulation and care through Benefit-Risk Assessment, dressing correctly and identifying learning opportunities and developing higher-order thinking skills). From the start, children were involved in building the learning environment.
I returned every year, by September 2012 to move my focus to PYP unit delivery in the outdoors. Year 3 had a focus on matter. In the six month gap Year 1 had started to create and build their outdoor classroom in the central quadrant with the children. We used props and photographs to initiate a discussion about the unit. Children were fascinated by how matter changed form and they realised heat can affect matter. The children tested this by designing experiments heating with fire. This was the first time many staff had worked with children outdoors.. I modelled a Benefit-Risk Assessment and the children created a plan, which included health and safety considerations
The OLE programme progressed into year 1, I delivered a parents' evening, which was written up as a blog by the director to explain the value of using an outdoor context and how parents can build on this at home, strengthening the home/school link. At the close of the session, a parent approached me and said, "You were lighting fires with my son yesterday". "Yes", I replied, a little concerned she may be about to raise a Health and Safety issue. She continued"I have never seen my child so excited about learning … he started telling me things about matter, what heat does, what we need to make a fire, how we have to be safe around a fire and how we cook on a fire. I asked him after each fact he shared with me, 'and when did you learn that and he just kept saying 'today'. Thank you, he has learnt so much." I was moved by how emotional this parent clearly was about the power of outdoor learning.
During my February 2013 visit, Year 5 was undertaking an inquiry into traditional crafts. I supported staff  (who were anxious about participating in this new learning experience) and 80 children, to either use fixed blade knives to carve or use fire to create ember bowls.
This experience was extended by staff back in class. They finished completed the creation (sanding/varnishing and decorating). The children involved wrote up their experiences, reflecting on the time it takes and perseverance required. .
By September 2014, OLE was operating well from Kindergarten through to year 5. I had a growing concern that repeated activity was taking place and we needed to spiral and progress learning. I, therefore, initiated the development of the OLE programme of overall expectations, scope, and sequence which are integrated with trans-disciplinary skills, learner profile, and the curriculum scopes and sequences. Following a discussion with the OLE team, we identified 3 key inquiry areas: participants, tools, and learning. In recent times, a skills Rubik has also been created.
By September 2015, OLE had become embedded and staff were skilled at linking indoor and outdoor learning.
Over the years ISD had been travelling to a range of conferences to celebrate how they use the outdoors as a learning tool. This culminated in the staff organising their own international conference at ISD in 2017. I was privileged to be invited as the keynote speaker, talking about the value of outdoors as a medium for learning. We had a wide range of visiting staff from the length and breadth of Europe.
In 2017 I commenced a focused project with the Senior school (middle programme). We used an interdisciplinary approach with volunteer staff from the geography, arts, English, and biology departments. During the year grade 6 identified species in their outdoor classroom, mapped the space, and started to explore how it could be used. This continued in 2018 with children creating path networks, a 'green gym' and mindfulness space, diversifying habitats and growing crops.
In 2019 we used the outdoors to ease transition from elementary to senior school, as year 5 used the senior schools outdoor learning classroom for some of their sessions. This allowed the children to become familiar with the new campus and some of the staff.  I hope this project and the use of the outdoors will continue with my input for many years to come.
In summary, key aspects that have run throughout the project are:
The children are involved in designing, creating, and building their outdoor classrooms, ensuring the key aspects of boundaries (that we can be on either side of), some gradients, different surfaces, organised signposted storage, and shelter are evident. These spaces are non-permanent so that each year the new influx of children can adapt and change the space. Children ensure use is sustainable, managing the erosion and habitats within the site.
An ever adjusting and evolving programme of delivery, in which over the years, we have tried varied timetabling, staffing arrangements, integration with various aspects of the PYP, and duration/time blocks.
The project has succeeded because:
Children have appropriate clothing, that is stored and dried (boots and waterproofs)
There is good peer support and co-operative working
Management, staff, and parents are supportive and motivated by OLE
We start with the youngest children and progress spiraling up through the years to senior school
And finally, Outdoors in is not treated as separate but integrated into units of inquiry, phonics, mathematics, and trans-disciplinary skills
The last word I will leave with Fernanda, an English as an Additional Language teacher:
"When I first started teaching in the outdoors, I was not sure what my expectations were. I did not see myself as an outdoor person.  Astonishingly my students taught me what I did not know. I learned from my students that their learning was not only a classroom lesson. I learned from them to love the outdoors.  They showed me that they could retrieve new concepts every time we went to the outdoor environment. My students learned routines quickly. They learned first-hand to describe the weather, their feelings, what to wear to stay warm and/or dry. I was surprised that my role was more of a guide than of a teacher. My students were eager to go outside every day. The outdoors turned out to be a friendly, non-threatening environment where children were not afraid to make mistakes, felt free to explore and make new discoveries. Their imagination and creativity was truly stimulated. Photo: Reflection a previous Outdoor Learning Environment experience and the order in which it occurred.'
ABOUT THE AUTHOR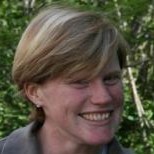 For the past 15 years as an Education Consultant, Kate has taught in nature kindergartens, schools, and early years settings, through her coaching and project work. In tandem, she delivers and designs Continuous Professional Development training courses (face to face, online and webinars) and keynotes speeches. Her work takes her throughout the UK, into Europe and beyond (namely, USA, Canada, India, and Australia). Her passion is to cascade this learning and empower others to deliver fantastic outdoor learning programmes.
Kate mainly does this through coaching in context, continuous professional development training, and creating written materials. She delivers, assesses and internally verifies qualifications in Forest School and Learning Beyond the Classroom. Contact may be face to face or remote (online). These sessions last a half a day, evening, full-day, or an extended time block for a project. Common delivery themes include: Adult role & interaction, Benefit-Risk Assessment, curriculum coverage outside, and child interpersonal skills development. To read more about Kate, please click here.
www.linkedin.com/in/kate-hookham-dolearn
www.facebook.com/dolearn.co.uk
https://www.ecis.org/wp-content/uploads/2020/08/cdc-TF5U-7bjLwU-unsplash-scaled.jpg
1707
2560
ECIS
https://www.ecis.org/wp-content/uploads/2018/06/logo_temp.png
ECIS
2020-08-19 15:29:10
2020-08-19 15:29:10
Collaboration and outdoor learning in Düsseldorf.