Helping Students Find Their GPS; Gifts, Passions, and Sense of Service.
Jade Vidler, Deputy Housemistress, Sotogrande International School.
Helping Students Find Their GPS; Gifts, Passions, and Sense of Service.

In September 2019 we were reminded of the power of children and young people as millions of students forgave their education, using their voices to stand up against climate change. One student, Greta Thunburg, led this specific movement using her own GPS. This is a strong reminder that students already are agents of positive change and their capabilities should not be underestimated.  
Helping pupils find their gifts, passions and sense of service is arguably the most important thing a school can do. Encouraging students to uncover what they are passionate about; what they care about and ultimately how they want to shape their lives leads to well-rounded individuals who are equipped with direction for life post-education. However these factors have to be nurtured; there needs to be time and space for these gifts and passions to emerge, and students need to feel empowered. 
When students realise that their agency is entirely within their own power and not something they are born with or without, and they start to explore it and feel passionate and empowered by it, then the magic can really be unleashed. Poon (2018) in Education Reimagined explained student agency as having four components: 1) setting advantageous goals; 2) initiating action towards these goals; 3) reflecting on and regulating progress towards these goals and 4) a belief in self-efficacy. The fourth element is recognised as underpinning the first three and demonstrates the importance of students' sense of self belief. This can be facilitated largely by educators as we provide tools for students and prove to them that they can do things and that their actions can make a difference.  
The founding of The Kindred Project 
At Sotogrande International School we strive to empower student agency. In 2010, through a deep process of reflection, we questioned the impact of the funds raised through events and in turn, the learning processes provided for our students. We looked into models that would enhance our social impact, but what intrigued us most was, how this would look if it were completely student-lead? This inspired the birth of The Kindred Project, or 'KP' – our student-lead NGO. It has been designed as a guarantor that student-led action has a real positive impact in the communities we work with, creating win-win situations for all involved. KP achieves this by using tried and tested models implemented by international development organizations, which allow for the monitoring of activities and funds, as well as evaluation. This enables action that, as a response to a genuine need, is mindful, appropriate, and sustainable. For our students, it's all about experiential learning. In line with our partners' needs, students come up with ideas, projects, inventions and products which help to address social or environmental issues. We then provide the platform for these dreams to become reality through our framework of student entrepreneurship. To deepen the learning and social impact, we offer students the opportunity to make direct connections by participating on incredible expeditions to our partners spanning over 4 continents. 
What does this really look like? 
We facilitate the majority of this learning and many of these experiences through the KP Club. This is an after school club that runs three times a week and currently engages over 70 students. Through structured but flexible and creative systems, students take the lead on all aspects of the projects from the initial ideas, to the running of an event or development of a product.
The students have complete control, coupled with careful guidance, and what they produce is truly outstanding. An example of one project is the Little Suns project, started by Max G, aged 15. Through curricular connections, Max understood that the community of one of our partners in Nabugabo, Uganda, struggle to carry out daily tasks after sunset without electricity. He had the idea to provide solar lamps to the people of Nabugabo. He researched, fundraised and sourced 60 Little Suns solar lamps which he had delivered to our school, ready to be taken on our next expedition to Uganda. These solar lamps were distributed amongst the community. Seeing the huge impact his project had had on people's lives, Max was inspired to continue raising funds for more lamps and applied to take part in the next expedition to see it first-hand. His reaction on the ground in Uganda was profound and life shaping. However, KP also goes further than KP Club. The values, morals and passion of KP are also sewn into the curriculum at Sotogrande International School. Class projects begin in our youngest years and continue up through the school, with many students focusing their community and personal projects on addressing social and/or environmental issues, giving back to the community and cultural exchanges.  
Expeditions are an essential part of KP as they provide the rawest, realest experiential learning possible. They accommodate the opportunity for experiences of human connection and personal realisation, as well as skill development and intercultural understanding. The expeditions include working with our partners in Spain, Morocco, Uganda and Ecuador, and this summer saw our first expedition to the Himalayas. All of these trips are unique, with an individual sense of purpose that provide life shaping opportunities for our students, as well as the communities we work with.  
What does students finding their own GPS look like? 
For most students, experiential learning is what they remember. It's most likely through experiential learning that they have their ´lightbulb moment´. It causes them to understand what is important to them, and that alone, can be life shaping. One example of a student experiencing this is Enola G, aged 16, who tells us "Through hands-on work in the community of Nabugabo, I realised that I am driven by helping others, and suddenly my career path became very clear. The day I came back from the trip, I was confident about studying politics and international relations at university, with the intention of making a difference for those who need it the most." 
Another student, Nele W, aged 17, reflects "this expedition was completely different to anything I have ever experienced before. Following this trip I have come to the conclusion that anyone can make a difference. Over the coming months and years I will always continue to reflect on this journey. I have learned that when you take action by following what you love doing, you really develop a life-long passion." 
These are just some examples of how students have been personally impacted after finding their GPS through experiential learning on one of our expeditions. Flora S, aged 17, reflects on her work with KP as she prepares to move on to higher education and summarises the importance of giving students opportunities to find their GPS's. "What I have learnt, and what I continue to learn, can be taken with me wherever I go; it is a gift that I didn't even realise I was being handed as I embarked on all those years of challenges and adventures. And it is one I will cherish for life." 
And how can you replicate this in your school? 
There are three main factors in replicating this model within a school; passionate people, human connections and space for student agency. There are passionate people in every school, and bringing them together will help create the right environment for this type of model to flourish. This includes both staff and students.  
Another key factor in making this model sustainable is the human element. Human connection is what really fuels these projects and programs to run successfully. Making the programs real through relationships is invaluable. If this cannot be achieved through partnerships, human connections between staff and students can also evoke emotion. The key emotion to awaken through these projects is empowerment. Once the students feel empowered, their investment in the projects climbs, as does their self-esteem.  
Facilitating space for student agency is also imperative. Having a 'yes' culture, which is followed up with assistance, guidance and reflection is where the key lies. Letting them direct the project, event or idea is an essential factor in the development of their sense of agency. Being open-minded and allowing the roles to be reversed to some extent from student to teacher helps the opening up of projects and allows the model to run. The thing to remember above all else is that our youth are not the leaders of tomorrow, they are the changemakers of today. 
Bibliography: 
Poon, J. (2018). Part 1: What Do You Mean When You Say "Student Agency"? [online] Education Reimagined https://education-reimagined.org/what-do-you-mean-when-you-say-student-agency/ [Accessed 14th March 2020] 
ABOUT THE AUTHOR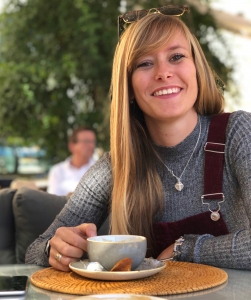 Jade has worked in Boarding schools for a number of yearsand developed a passion for giving students real-world experiences and helping them to navigate their path in life. She is currently Deputy Housemistress at Sotogrande International School and combines this with working as an Educational Specialist at The Kindred Project. Having been on leadership teams on expeditions to Uganda and Ecuador, and through running the KP Club, she has seen first hand the life-shaping impacts discussed in this article.
https://www.ecis.org/wp-content/uploads/2020/07/Primary-students-sorting-accounts-during-KP-Club-scaled.jpg
1707
2560
ECIS
https://www.ecis.org/wp-content/uploads/2018/06/logo_temp.png
ECIS
2020-07-01 11:45:55
2020-07-01 13:03:33
Helping Students Find Their GPS; Gifts, Passions, and Sense of Service.