What does AI mean for Middle Leaders?
Stephen Taylor
13 June | 11:00 -12:30 (London time)  | 18:00 – 19:30 (Beijing)
Fee: £90 (Discounts depending on ECIS Membership level, see link below for more information)
What does the emergence of AI mean for Middle Leaders? How can we support our colleagues in adapting to the age of AI? What AI tools can help us in our work? What do we need to be aware of?
In this new workshop, we will share some exciting developments in AI in Education, some useful tools to try and discuss how we, as Middle Leaders, can successfully adapt to an AI world.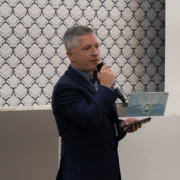 Stephen Taylor is from the UK and the Director of Innovation in Learning & Teaching at the Western Academy of Beijing. He has worked in schools in Indonesia, China and Japan, and has a strong belief in innovative education for an inclusive, sustainable and hopeful future for our young people. He is @sjtylr on Twitter & LinkedIn, and you can find some of articles and adventures in AI on sjtylr.net.