The Gift of Mindfulness: A powerful mental tool to support our ECIS learners with additional learning needs: 17 November
Facilitated by Gift Nisanart Dharmageisirattana
This workshop explores how mindfulness skills have helped students diagnosed with ADHD, seizure, severe trauma and depression survive their challenges. Our team of presenters are Gift Nisanart Dharmageisirattana, director, Zack Lowe, counselor, and Allan Saakha, special needs teacher, from The American School of Bangkok Green Valley. Our mindfulness in education was implemented in 2012 and has proven success with teachers and students of all ages and various needs. This workshop provides tangible evidence of how learners with additional needs are able to self-regulate, perform with mental focus, and build self-confidence along with their parents' testimonies.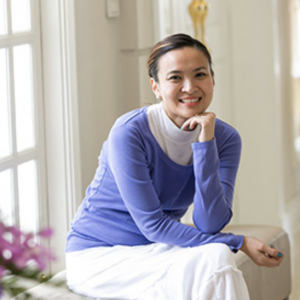 About the facilitator
Gift Nisanart Dharmageisirattana earned her bachelor's degree in Film and Television from New York University (1998) and her master's degree in Education Administration in Public Education from Teachers College, Columbia University (2013). From 1990 to 2004, she hosted and produced series of documentaries, various TV shows that were aired on Thailand's national television channels. Currently, she serves The American School of Bangkok Green Valley as Director. Trained at Columbia, Yale, India, Thailand, and France on various mindfulness disciplines, she introduced and implemented the Mindfulness in Education program which was well received by all stakeholders at The American School of Bangkok.
She is certified in .b, a UK based mindfulness curriculum. She has delivered mindfulness presentations at EARCOS Leadership Conference in Malaysia, Asia Pacific International School Conference in Hong Kong. She founded the Mindfulness Academy of Asia and serves The Ministry of Education of Thailand and International School Association of Thailand to provide professional development for international teachers. Among her trainees in mindfulness techniques are multibillion-dollar enterprise, Amata Nakorn, professional golfers, executives, doctorate and master's degree students from various universities. In 2018, she published her new mindfulness book, "The Mindful Way" to help teachers and administrators implement mindfulness in schools.
Learn more about the incredible benefits of mindfulness. Presented by the ECIS Learning Support/SEN Special Interest Group.