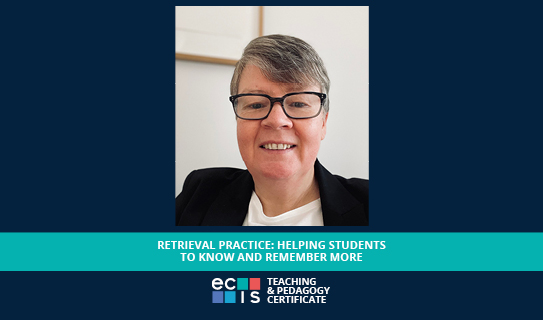 ECIS Teaching and Pedagogy Certificate: Retrieval practice: helping students to know and remember more
17 October
Facilitated by Helen Morgan
Online
Fees: Individual course: £30 | 10-course certificate package: £240
Two timings available on the same day in order to accommodate multiple timezones:
Timings are listed in London time.
17 October 09:00-10:30
17 October 15:00-16:30 
Cognitive Science tells us that learning is a change to the long-term memory. Retrieval practice is a key strategy for moving information from the working memory to the long-term memory.  This supports learners to remember and recall information with increased fluency and ease.
This session brings retrieval practice to life by sharing lots of practical ways to help students to know more and remember more. From quizzing to listing, and multiple-choice questions to flashcards-teachers will leave this session ready to implement retrieval practice in their own classrooms.
PLUS: You can register and pay for a certificate place (10 sessions) in advance  for £240, a fantastic saving of £60. See more information via the link below.