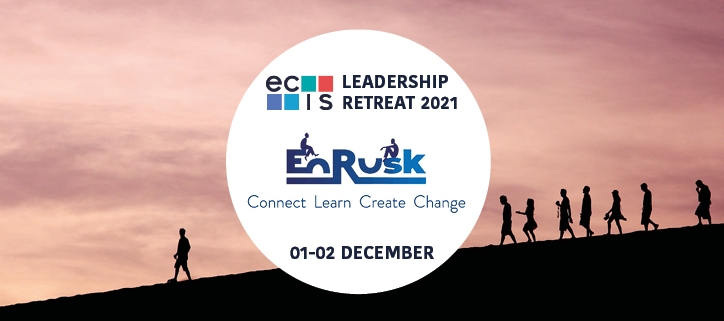 ECIS LEADERSHIP RETREAT 2021

01-02 DECEMBER | POWERED BY ENRUSK
Don't miss this opportunity to connect, learn, & create with other world experts and school leaders.
The ECIS leadership retreat facilitated by EnRusk Consulting is a not-to-be-missed opportunity for modern leaders to connect, design, and prototype solutions with a fantastic team of global consultants. After an extremely challenging year, this retreat provides the perfect space for school leaders to reflect on the challenges and successes of the past year and capitalize on the learning and innovation that can be driven forward. We know that disruption will continue to be an evolving factor in the education landscape. Leaders must shift their mindsets to see continual change as a positive to ensure the success of their schools and their students. Participants will find solace and inspiration from a thriving and inspirational professional learning network through connections with other leaders.

Led by Dr. Kynan Robinson, EnRusk is a global consultancy firm working at the highest levels. With over 20 years of experience, they are a team of experts in leading organisations through change, innovation, and growth processes. Their vast experience working with boards and leadership teams both in education and with some of the most creative companies in the world contributes to the unique approach they bring to their leadership retreats. Alongside the insights they provide, their leadership retreats leave teams armed with new processes and tools needed to lead schools into the ever-changing future confidently. EnRusk are experts in industry-standard approaches, including design thinking and agile approaches to leadership and strategy.
THE RETREAT
Before the leadership retreat, all leaders will meet online to get to know each other and understand the course's objectives. This will take place on Zoom on 23 November, 16:00-18:00, London time. This introduction sets the stage for a collaborative and networked approach to leading and learning. Through this process, participants will develop a strong network of leaders to draw on throughout the course and beyond. This network will be facilitated by EnRusk and will support the notion that we lead better together.
During the retreat, the previous 18 months will be used as the catalyst to help the better understand the status quo, spot the gaps and discover opportunities for change and innovation to set them and their schools on a path for future success. Participating leaders will unpack their current processes for innovation and explore what else might be possible. This will take place on December 1 and 2, 09:00 to 16:00, London time.
Through the Design Thinking process, they will identify problems and prototype solutions to leadership challenges and work to inspire innovation in their organisation. Participants will be led through a problem-finding expedition to identify critical issues from their environment. They will begin to ideate viable solutions to these problems. They will draw on both the support of their budding professional network and EnRusk's team of consultants to develop an achievable prototype to implement back in their organisation.
After the retreat, leaders will implement their prototypes in their school communities with the support of EnRusk's team and our new professional network. EnRusk's coaches will support this implementation and guide and encourage each leader through a personalised and bespoke coaching model. This unique approach ensures that momentum is not lost once the retreat has concluded and equips leaders with the tools and support they need to drive their selected innovation.
BY THE END OF THIS INTERACTIVE EXPERIENCE, PARTICIPANTS WILL:
Have a clearer picture of the gaps presenting themselves within their school context. 

Feel confident understanding the opportunities in their schools.

Have a clear plan to address these opportunities post-retreat.

Leave with a clear innovation and future planning process, plus new tools that they can immediately apply back in their schools.

Become part of a strong network of global leaders with whom they can draw on and continue to work with to address problems in their schools.
TAKEAWAYS
Leaders will walk away from this retreat, understanding how to lead with empathy and drive successful and strategic innovation within their school environment. Through immersion in the design thinking approach, participants will develop a working understanding of DT and its application in a leadership context. Finally, participants will be equipped with tools and processes to apply and lead Design Thinking back into their school contexts.
TICKETS
NON-MEMBERS: £300
ECIS MEMBERS:
LEVEL 1 MEMBERHSIP: £270
LEVEL 2 MEMBERSHIP: £255
LEVEL 3 MEMBERSHIP: £240
Interested in learing more about ECIS Membership?