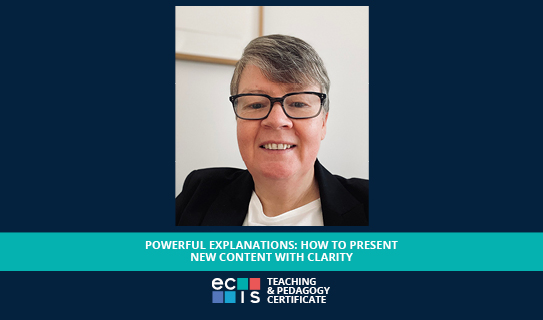 Powerful explanations: how to present new content with clarity
28 November
Facilitated by Helen Morgan
Online
Fees: Individual course: £30 | 10-course certificate package: £240
Two timings available on the same day in order to accommodate multiple timezones:
Timings are listed in London time.
28 November 09:00-10:30
28 November 15:00-16:30 
When you ask learners what great teachers do, one of the most common responses is that the teacher explains things well. Being able to explain things clearly, concisely and in an engaging way is important, particularly when the content of the lesson is new.
This session explores what teachers need to think about if their explanation is to be effective. From cognitive load theory and  the use of examples, to drawing on prior knowledge, this workshop will support teachers to give powerful explanations and present content with clarity.
PLUS: You can register and pay for a certificate place (10 sessions) in advance  for £240, a fantastic saving of £60. See more information via the link below.