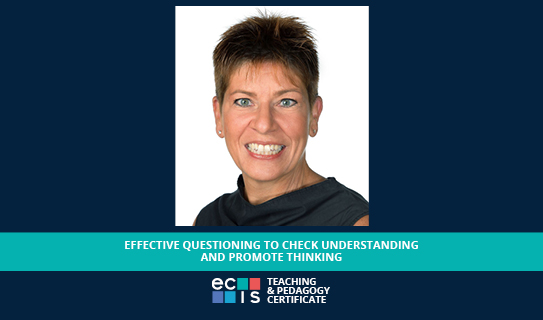 ECIS Teaching and Pedagogy Certificate: Effective questioning to check understanding and promote thinking
07 November
Facilitated by Nancy Lhoest-Squicciarini
Online
Fees: Individual course: £30 | 10-course certificate package: £240
Two timings available on the same day in order to accommodate multiple timezones:
Timings are listed in London time.
07 November 09:00-10:30
07 November 15:00-16:30 
Delve into the power of questioning and discover how it can be harnessed to promote critical thinking and check understanding. This workshop is designed to provide participants with a deep understanding of the research and literature surrounding questioning techniques while equipping them with practical strategies to create an environment conducive to effective questioning.
By the end of this workshop, participants will have the tools and knowledge to craft purposeful and impactful questions that engage learners, challenge assumptions, and encourage critical thinking.
PLUS: You can register and pay for a certificate place (10 sessions) in advance  for £240, a fantastic saving of £60. See more information via the link below.