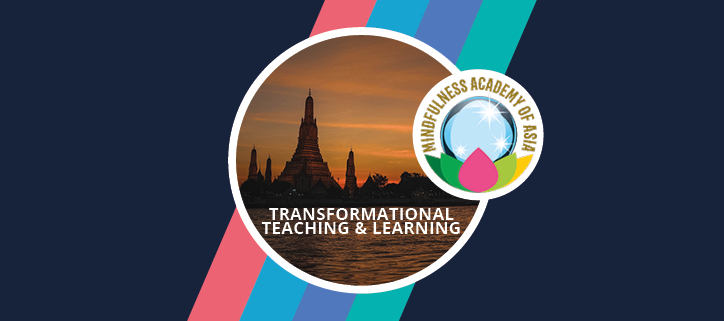 ECIS Mindfulness in Schools Professional Training Series: Transformational Teaching and Learning
07, 14, 21, 28 September 2022
15.00 – 16.00 London time
Location: Zoom meetings
FREE
ECIS, in partnership with the Mindfulness Academy of Asia, is providing courses for teaching and learning through mindfulness techniques. This is a new approach to transformational teaching. We are offering mindfulness training to educators who share our passion for nurturing mental health and wellbeing. We will coach you on how to implement mindfulness in your classrooms, through evidence-based techniques. Based on the data you collect about the positive impact this has on your students' learning, we will feature our work together at the ECIS Inclusive Education Conference in Athens, Greece, on March 24-25th 2023.
Many educators, parents, and students have heard about the benefits of mindfulness practice in schools and many reputable organisations and universities apply mindfulness practices successfully. However, some have experienced challenges when trying to implement mindfulness in their classrooms and school communities. One common challenge among practitioners is being able to apply mindfulness with consistency. Misconceptions of how mindfulness is affiliated with religious doctrine has sometimes triggered passive aggressive responses from members of the community, which has caused difficulties in applying mindfulness in these schools. Our proposed solution to such challenges is to help our community understand mindfulness from a neuroscience perspective. The group discussion and professional support of this long-term course is designed to bring consistency to the development of school practices.
Training Series: the Mindfulness Academy of Asia is offering three different course opportunities through ECIS, in the 2022 / 2023 school year. Participants can attend one, two or all three of these professional learning opportunities:
4-week mindfulness course:
Participants will meet with our instructor online to exchange knowledge and understanding of what mindfulness practice looks like through a secular practice, based on the neuroscience perspective. There will be four online meetings, once a week, for one hour per session. Participants will experience the positive impact of mindfulness on their personal and professional levels.
Deep Dive:
One day, face to face, Deep Dive Training Session at ECIS Teachers Conference, Wembley, London on November 3, 2022.
Followed by 5 follow-up meetings in Zoom from November 2022 to March 2023
Schedule for Deep Dive Mindfulness in Schools, Professional Training Series: 
10:00–11:00 – How mindfulness transforms adult development and students' learning (Testimonials and data evidence will be presented)
11:30 – 12:30 – Case studies from educators implementing mindfulness in schools
13:30 – 15:00 – Solutions: Different mindfulness techniques that answer to different needs (for example, ADHD, Sports Competitors, Focus and Concentration)
15:30 – 16:00 – Final Reflection
For participants who wish to continue with mindfulness work in their schools, we will choose a common, specific goal together, to explore in their school. Participants will collect and share data over the coming months of implementation. Examples of specific goals might include:
Students increase their reading attention span
Students improve in their physical stamina and can work under pressure for tough sports competitions
Students improve their quality of sleep and rest
Students can regulate themselves when it comes to online games addiction
Participants will apply the techniques they have learned in the Deep Dive, in their classrooms, and start to collect data on a regular basis. We will meet online biweekly for 5 meetings between November and March. During these meetings, participants will be coached on how to handle challenges that came along the way. Questions that arise will be answered via e-mail communication and Zoom meetings.
ECIS Inclusive Education Conference Presentation:
Final presentation of compelling data collected by participants, will be presented at the American Community School in Athens, Greece, on 24-25 March 2023.  
You can expect to:
learn and connect with fellow educators who share a passion for well-being
exchange knowledge and ideas in a safe environment
be supported by experts who have been active in the field of mindfulness training for more than 30 years
apply what you learn to your own school environment
access endless techniques on well-being
Your learning outcomes will include:
deep reflection on your life goals
identifying your strengths and weaknesses for self-improvement on a professional and personal level
an ability to identify different types of mental frequencies, to support differentiated mindfulness teaching in the classroom
an ability to identify and differentiate whether a student has trauma and needs to be referred for professional counseling, or if a student just has regular stress level, which can be positively supported through mindfulness techniques
recognising your own mental and emotional state, in order to regulate the emotions that are appropriate for your context and situation.
When you achieve these skills, you will be able to help your students acquire these skills over time.
REGISTER HERE ( ONE LINK FOR ALL ZOOM SESSIONS)