How will schools diversify, innovate, and evolve in the future?
Paul Montague, International Digital Learning and Curriculum Manager, Edmentum
How will schools diversify, innovate, and evolve in the future?
Educational provision has been forced to evolve during the Covid-19 pandemic. Schools have adapted and adjusted to the significant challenges of maintaining health and safety, ensuring education continuity, and providing social and emotional learning and wellbeing support. Every school is unique, and each has responded differently. This unexpected, unplanned, and rapid transition to remote learning with little preparation, training, and in many cases, access issues created problems for governments, states, schools, teachers, students, and parents to resolve. Transitioning from face-to-face to remote teaching in the space of a week was a remarkable achievement but is certainly not an ideal way to develop new online teaching pedagogy.
Many experts have differing views on how schools will, and should, emerge from the Covid-19 pandemic. All would agree that it has been a catalyst for change and a disservice to our learners worldwide should we return to 'normal' without evaluating how EdTech can be used to complement, enrich, and enhance education. In an article for online magazine, Quartz, Andreas Schleicher, the OECD's director of education, commented: "All the red tape that keeps things away is gone and people are looking for solutions that in the past they did not want to see… Real change takes place in deep crisis… You will not stop the momentum that will build." Speaking during his 2012 TED Talks discussion, he also stated, "Education is not a place; it's an activity." So theoretically, it can be delivered anytime, anywhere.
What will we learn from this great global remote learning experiment? We have an opportunity to develop an educational approach that will finally service our learners' needs and strengths. It is an opportunity for education systems worldwide to reimagine learning to meet the 21st-century learner and workplace needs.
I have had the pleasure of supporting hundreds of international schools while providing planning and consultation meetings. I have watched in awe as bespoke solutions have been adopted and thousands of teachers have adapted and innovated using different combinations of our programs. With their skill, energy, and enthusiasm, educators have continued to engage students in learning as they adapt to new pedagogies, processes, systems, and technologies.
Education technology has had a positive impact on teaching and learning during the Covid-19 pandemic. Its effectiveness has varied by age group, and there is a consensus that online education for the oldest learners has been particularly beneficial. Many schools had already begun integrating technology and developing their own blended learning model, but what impact have EdTech solutions made during Covid-19?
The most successful solutions have common characteristics, which include: facilitating personalized learning underpinned by science, being pedagogically appropriate and aligned to curriculum standards, including elements of instruction (teaching). Progress checks and real-time formative feedback for both students and teachers driven by adaptive technology and the automatic creation of grade and mark books are also essential. A customization tool that enables teachers to add content, functions that reduce the administrative burden on teachers, and the offer of a range of lenses so that other decision-makers within the school can make informed decisions that lead to improvements in teaching and learning need to be incorporated.
My most recent consultations have been focused primarily on evaluating the impact of our solutions, discussing both credit and learning recovery options, and planning education provision for a potentially less-Covid-19 affected new school year in September 2021.
Credit and learning recovery continue to be significant issues that schools are seeking solutions for. Our online teachers can specifically focus on credit recovery by providing a digital curriculum while the school's staff delivers on-grade-level teaching and learning. This is a powerful partnership that enables the students to recover quickly and protects their in-school teachers' wellbeing. Some schools are already looking to develop bespoke online spring break and summer schools utilizing our teachers to provide targeted support for their learners.
I am currently working with governments to help their students recover learning and skills by embedding Exact Path. This solution identifies learning gaps, personalizes learning, and provides instruction, practice, and mastery opportunities that adapt to the student while continually feeding back progress and attainment data to teachers. One government is combining Exact Path with FEV Tutor, a personalized one-to-one tutoring service. Our partnership with FEV Tutor means we now have an on-demand tutoring service that can support students 24/7, ensuring engagement is maintained, and motivation increases as they experience more success and improve grades.
What lessons have we learned, and what will, could, and should school look like in the future? Dr. Abdulla Al Karam, Director-General of the Knowledge and Human Development Authority in Dubai, sees, according to The National News, an opportunity for there to be a significant evolution in the way education is provided. Dr. Abdulla envisages that "In the future, there will be as many models of education as there are pupils with a possibility that children could attend several schools at the same time as a shift to remote learning helps usher in a new flexible era of teaching," Education in Dubai is primarily provided by the private sector and is home to some of the biggest brand names in education. Fierce competition between providers drives innovation and change in Dubai. Schools will respond to new opportunities and create new business models to meet parents' and students' changing demands and expectations.
Some international school groups, such as the Inspired Group, have already developed their own online school (King's College, which is being offered to parents at a different, reduced price point to their physical schools). Theoretically, children could enroll in this school from anywhere in the world. Does this suggest that provision will go even further and enable students to take math in one school, English in another, and science in another while attending a physical school for elective, technical, or option courses?
Our priority at Edmentum is designing learning solutions that help educators become more effective and enable students to learn wherever teaching is taking place. We are perfectly placed to support American curriculum schools as they embark on their journey toward inclusive and personalized learning and are already partnering with schools and educators to provide personalized education models. Our Cognia accredited online school partners with existing schools to offer additional courses, provide credit recovery, and Advanced Placement courses. We also have standards-aligned digital curriculum that supports schools to deliver online, face-to-face, distance, and hybrid learning. This digital curriculum is rapidly replacing traditional textbooks and contains all the learning content a student would require. It has built-in assessments and is customizable, enabling teachers to combine material from different courses or grade levels. Exact Path, which is well known worldwide, is a supplementary adaptive tool that supports math, reading, and language arts development. Our partnership with BASE Education provides digital social-emotional and wellbeing courses. Our partnership with FEV Tutor means that any of our solutions can be supported by additional on-demand tutors 24/7.
Our partnerships with schools add flexibility to their education provision by providing age-appropriate solutions driven by adaptive technology and underpinned by learning science. We support schools to build a truly personalized provision around each learner that can be accessed anywhere, anytime. Teachers are, and will always be, critical to education. Their role may change as they become facilitators of learning, but technology will never replace them. Similarly, Daisy Christolodou (2020), in her book, "Teachers vs. Tech," points out that "a top teacher knows when, how and why to use each of their tools and techniques and can effectively implement them in different situations and with different students." To do this, she says, "they combine science (from educational, psychological, and organizational sciences) with art and creativity to produce learning situations that are effective, efficient, and enjoyable for their students and themselves." Technology will certainly allow teachers to become more effective by relieving some of the planning, administration, and assessment burden, enabling them to focus their skills on improving the quality of learning that is taking place.
Please join me and my colleagues at the ECIS Leadership Conference where we have a session to evaluate the best practice that has developed in international schools over the last year and considering new innovative approaches to both school provision and learning.
What do you think about the points raised in this article? We'd love to hear your feedback.
ABOUT THE AUTHOR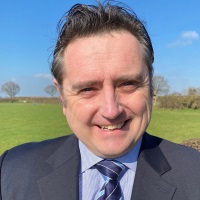 About Paul Montague
As International Digital Learning and Curriculum Manager, I partner with schools worldwide as they introduce Edmentum's curriculum and learning solutions in their school. We put educators at the centre of everything we do and work with schools to improve digital teaching and learning opportunities.
I am an experienced education professional who has worked with governments, school groups, and individual schools. The focus of my conversations is always school improvement. I have extensive experience of international schools and the UK education system and regularly speak at international conferences and write thought pieces for educational journals.
About Edmentum
Edmentum is a leading curriculum and assessment company, putting educators at the heart of everything they do. Providing award-winning solutions that support educators and students aged K-12, it's used across 80 countries, offering schools, school groups and governments the addition of hybrid, blended and distance learning solutions.
Edmentum's commitment is to make it easier for educators to individualize learning for students using simple technology, actionable data, quality content, and a passion for customer success, redefining the 21st-century classroom. Learn more.
https://www.ecis.org/wp-content/uploads/2021/03/edm.jpg
1386
2478
ECIS
https://www.ecis.org/wp-content/uploads/2018/06/logo_temp.png
ECIS
2021-03-30 14:07:09
2021-03-30 15:45:04
How will schools diversify, innovate, and evolve in the future?