Artificial Intelligence in Education: The Big Picture
HEDKY-AI

The big picture – Ai evolution in context
AI didn't come into existence out of the blue. It will also not disappear all of a sudden. It is the natural evolution of progress – it is the next stage in the industrial revolution.
The first Industrial Revolution happened between 1750-1870 (120 years). The most notable invention during the period was the steam engine. Main characteristics : mechanization, birth of industry, agriculture to be replaced as main economic activity.
The second Industrial Revolution took place between 1870-1950 (80 years). The most notable invention was the automobile. Main characteristics : basic technological advancements – electricity (gas/oil), steel, chemicals, telegraph / telephone.
The 3rd Industrial Revolution happened between 1950-2000 (50 years). The most notable invention during the period was the computers. Main characteristics : more technological advancements – industrial robots, electronics, telecommunications, nuclear energy.
The 4th Industrial Revolution takes place as we speak. It started in 2000. Nobody knows how long it will last, but the cycles of each stage are shorter and shorter. 120-80-50 years… Most likely this stage will last less than 50 years. The most notable invention during the current period is the internet. Main characteristics : emphasis on digitization – powerful computers, virtual reality.
The 5th Industrial Revolution will follow naturally. The most notable invention will be Artificial Intelligence. AI/ML will become widespread and a part of everyday life on so many levels, we can't even imagine today. The only question is when will this new era start, if it hasn't started already…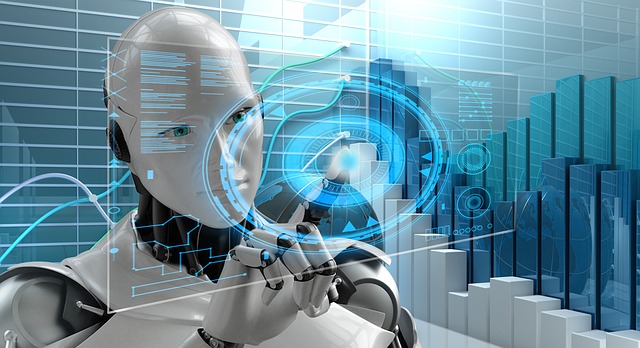 AI is a new phase in progress – probably the next industrial revolution
Industrial robots meant progress by increasing productivity in factories – blue collar workers, performing easy, repetitive tasks were replaced by machines / robots. AI technology means progress by replacing more complex jobs which require human capabilities such as : understanding, reasoning, planning, communication, perception. But this does not mean humans are in danger! This means humans can now focus on more creative tasks which can't be performed by computers/robots/AI.
AI needs data to work. Data can be acquired by feeding it into the AI system (file import), by integrating the AI with other software or by the AI system itself when it interacts with the world (e.g. visual perception or speech recognition). Once the AI has data, it can perform various intelligent actions mentioned above (planning, perception, etc). AI systems assess the available information and then take the most sensible action to achieve a stated goal (e.g. planning a trip from San Francisco to New York).
Progress means that inevitably the jobs which require only the 5 capabilities mentioned above will be lost to automation. Are schools still preparing students for soon-to-be-obsolete jobs ? As mentioned in the first article, later down the road in our series of articles on AI in education we will focus on how students can prevent preparing themselves for jobs which are very likely to be lost to automation by the time they will retire from the workforce. This will reduce the need for professional reconversion later in life and will avoid various emotional situations associated with unemployment.
ABOUT THE AUTHOR
This article is provided by HEDKY-AI – Linking courses to careers. More than 90% of students using HEDKY-AI choose the right career – according to their talents. HEDKY-AI monitors student skill development from age 3 to graduation and beyond. Using HEDKY-AI's "Skill passport", teachers, schools and parents can see very early in a student's life towards which type of career they are heading to, according to their choices and results in curricular courses and extracurricular activities. If they head towards a job which is likely to be lost by automation, parents would most likely want to know this as early as possible in order to change their career goal.
To learn more about HEDKY-AI, please visit hedky.fr or get in touch with us by email at hedky(at)hedky.fr.
https://www.ecis.org/wp-content/uploads/2021/09/pexels-alex-knight-25992441.jpg
853
1280
ECIS
https://www.ecis.org/wp-content/uploads/2018/06/logo_temp.png
ECIS
2021-09-21 12:44:44
2021-09-21 12:49:46
Artificial Intelligence in Education: The Big Picture